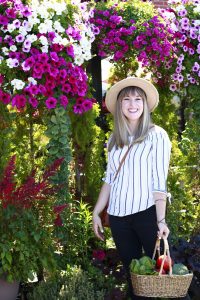 Meet Becki Parsons, our Registered Dietitian and Certified
Clinical Exercise Physiologist. Becki graduated from Washington State University with a Master of Science in Nutrition & Exercise Physiology knowing that she wanted to help others improve their health.
She has worked as a nutritionist at Good Samaritan Hospital in Puyallup, WA, with the Air Force at Joint Base Lewis-McChord, WA, and spent over two years at Sea Mar Community Health Center in Olympia, WA as an outpatient dietitian, assisting low-income and Hispanic populations in gaining empowerment in their health.
Becki also has a Youtube channel called Down Home Dietitian, where she brings you simple, delicious recipes for home-cooked seasonal meals and a glimpse into her family's homestead.
What motivates you to help others improve their health?
I believe that health provides the foundation for the rest of our lives. Poor health can make your dreams feel impossible, while a foundation of wellness allows you to build lives beyond your wildest dreams. Fad diets and misinformation have led so many people to feel helpless in their health, and my goal as a dietitian/exercise physiologist is to come alongside people, educate them, empower them, and help them create tailored plans to the lives they want!
What is your favorite piece of wellness-related advice?
Oh boy, good question.  My tagline sums it up pretty succinctly – healthy doesn't have to be hard. To elaborate, healthy is a spectrum, not an all-or-nothing wagon off which you fall. What works for one person may not work for another, and that is usually more about personality, lifestyle, preferences, family, culture, etc. than it is about willpower. I find that misunderstanding to be the primary cause of feelings of disempowerment and helplessness in my clients — people see certain plans, diets, or habits working for someone else but they can't seem to stick to them. That makes them feel like a failure, when in reality that plan was totally wrong for their lifestyle or their body. I never provide a one-size-fits-all plan to my clients. They are very involved in the process of choosing their plan because they know themselves the best!
What made you want to go into business on your
own?

As much as I loved working at the clinic, I really wanted the opportunity to work with clients on my own terms and expand my practice to include more work with exercise. I believe God brought me the desire, passion, and opportunity to start this practice. My business gives me the opportunity to honor God by pursuing my passion with integrity, hard work, and freedom. Owning my business means I can change and mold the way I deliver wellness information to serve my clients' needs. I love helping people realize that healthy doesn't have to be hard!
What are your hobbies and interests outside of work?
Most of my life is about food in some way or another – I love to garden, homestead, cook, and of course, eat! Outside of that I love to ride my horse Blue Belle, lift weights, hike, read, and spend time with friends and family.